I am currently Assistant Professor and the Director of Graduate Studies in the music department at Wesleyan; for the Spring term of 2018 I am also Visiting Assistant Professor in the music department at Harvard.  I work on eighteenth-century music, the history of music theory, Enlightenment aesthetics, early modern science, and theories of the affects and the passions. My journal articles have appeared in Critical Inquiry, Music Theory Spectrum, Eighteenth-Century Music, and the Journal of Music Theory. My first book, Beating Time and Measuring Music in the Early Modern Era, was published in the Oxford Studies in Music Theory series at Oxford University Press (2014) and won the Emerging Scholar Award from the Society for Music Theory.  I am a former junior fellow of the University of Michigan Society of Fellows, and I earned my PhD in music from the University of Pennsylvania.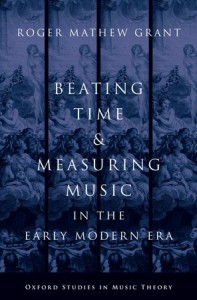 You can find my CV here.
Currently I'm at work on a new book project that describes the intellectual history of affect theory since the early modern era, and also demonstrates the surprising significance of music for this history. In the book, I argue that the theory of affect we have inherited today has its origins in eighteenth-century aesthetic debates concerning music's capacity to function as a sign and to move its listeners. In the early modern era, the affects were important components of an elaborate semiotic system that sought to explain the impact of art. Today, by stark contrast, affect is often explicitly opposed to theories of the sign and of representation. The genealogy traced in my book demonstrates how affect theories became separated from theories of representation, and it illustrates the central role that music played in this separation. Finally, in unfolding this genealogy of affect theory with a distinct focus on music, this study draws attention to the dialectical nature of thought on affect; it explains why patterns in affect theory systematically recur through history.  During the 2016–2017 academic year I was extremely fortunate to hold an External Faculty Fellowship at the Stanford Humanities Center, where I began work on this new project.
In addition to my academic work, I have also collaborated on the creation of new and newly-imagined operas.  Most recently I collaborated on an installation of The Magic Flute with Jonathan Berger, Susanne Sachsse, Vaginal Davis, and Jamie Stewart at NYU's 80WSE gallery.  Holland Cotter of The New York Times listed the piece among the "Best in Art of 2015."
In 2014 I assisted in Bruce LaBruce's film of Pierrot Lunaire, which won a Teddy Award at the Berlinale film festival.